The Boland Family welcome you to their grass fed beef page were you can purchase naturally raised grass fed Red Angus beef.
. Direct from the farm -delivered FRESH to your door.
. We save you money on your household bills 
. DELIVERED FREE within the Ballarat Area.
. No more heavy shopping bags from the Supermarket or butcher- we deliver to your door.
. Guaranteed grass fed and free of Artificial Growth Hormones and Antibiotics.
. Supporting us is keeping a Aussie family farm farming.
. GLUTEN FREE
Our farm is situated in central Victoria where we use traditional farming methods to raise our cattle with care and kindness.You can be 100% confident that when you purchase our beef you are getting an animal that was born and raised at Claremont and isn't an animal from a fed lot or abattoir
By buying direct from our farm you are supporting a Victorian farmer and their community. We are very excited by our beef and proud to be able to offer Central Victorian families beef which has been grass-fed is highly nutritious and is free of hormones ,antibiotics.
GRASS FED BEEF CONTAINS MANY BENEFITS.

It contains vitamin E, as well as six more beneficial Omega 3 fatty acids and Essential fatty acids. Essential fatty acids help to regulate metabolic rate, body temperature ,organ function ,lower blood pressure, heart disease and stroke.
So now you know some of the health benefits of eating grass fed beef in moderation.
Why not give it a try!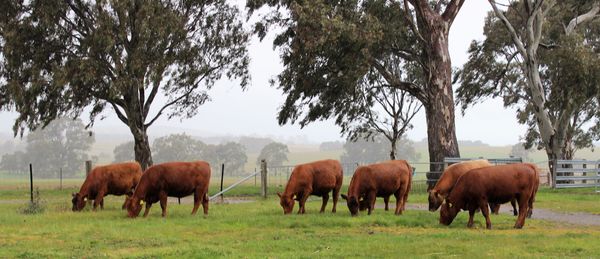 Claremont Red Angus grass fed beef is available in three pack sizes.
Quarter side of beef pack ( 40 kg minimum -55kg maximum )
Half body beef pack
Whole body beef pack
Half side of beef is fantastic if you have a big family and good size freezer.It is ideal for sharing with your family friends or your neighbour. You can certainly make big savings buying in bulk.
Claremont Red Angus grass fed beef Is sold by cold carcase weight. This is the weight that is measured after the carcase has been cleaned and hung for a few days . The pack weight will vary on each carcase due to the different body size of each animal. You shall receive a phone call on the final weight and cost of your pack prior to delivery. The meat is sealed and labelled into freezer bags for your convenience.
In a quarter side pack of grass fed beef you will receive portions of the following cuts.
Porterhouse Steak, Rump steak, Eye Fillet, Scotch Fillet, Topside Roast, Oster Blade, Silverside( Corned with Pineapple flavour ) Blade Steak, Stewing Steak Rolled Roast, T-Bone steak, Round Steak, 100% Premium Beef Mince, 100% Beef Sausages in Natural Skins and premium Sausage Mince, Dog Bones
Each pack will be packed to your individual requirements -e.g. family of 2 or a family of 4 and delivered fresh to your door.
For further information about our grass fed beef  please don't hesitate to call Jeff and discuss your requirements 
phone 0407 860 343